The Perfect Bay of Islands Wedding Venue
Celebrate your wedding at a New Zealand icon in the beautiful Bay of Islands, near Paihia. The Duke of Marlborough Hotel in Russell offers a unique wedding destination where you can experience the historic charm of New Zealand's first licensed hotel. The Duke is located on the waterfront in the heart of romantic Russell and offers a majestic Northland wedding venue for you and your guests
The Duke's grand ball room with ornate ceilings, chandeliers and polished wooden floor boards opens up directly onto sun filled decks overlooking the sea. The function room is filled with individually upholstered chairs seating up to 140 guests comfortably. There is also a private dining room providing an intimate ambience for smaller weddings.
With award winning chefs and restaurant managers the Duke offers exquisite cuisine and exceptional service. We meet with the bride and groom and tailor the menu and wine list to ensure a memorable celebration for you and your guests. The Duke has an on-site wedding co-ordinator with experience in planning and delivering tailor made, personalised weddings to guarantee a truly memorable day.
Please call or email us for specific information for your wedding. You can view more images of the venue in our gallery.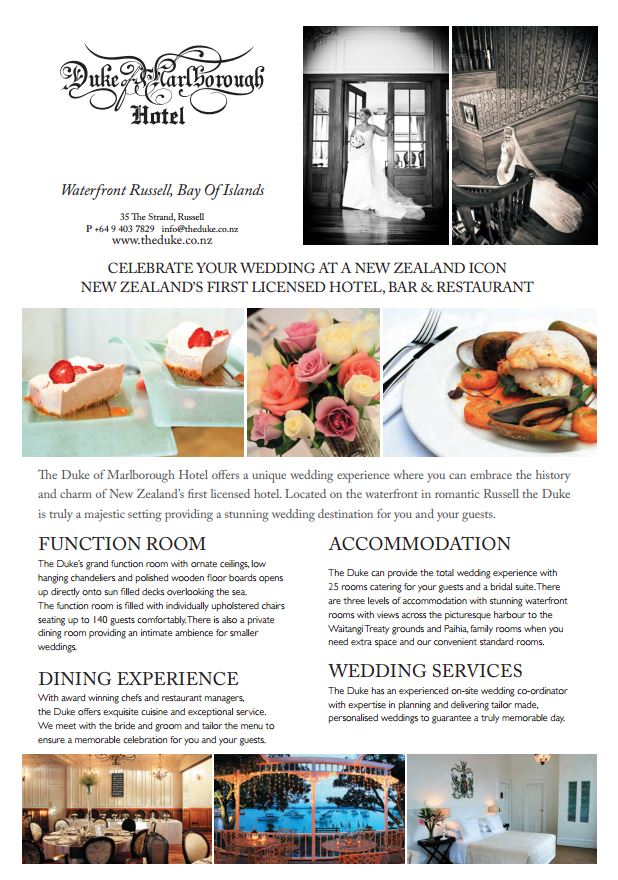 Thinking about holding your wedding at the Duke? Please get in touch for more information.
* indicates required fields
What our customers say
Mark and I would like to thank you, Bridget, Ida, Janna and all the Duke team for being so fabulous with the organisation of our wedding. Words cannot express how indebted we are to you all. This was not an easy wedding to organise, with having the Hindu ceremony at 1pm and then having to transform the hall for the reception at 5pm. However you all made it look so easy and everything was perfect. At the start of the reception, Bruce informed me that we were only 4 mins behind the schedule prepared months ago. To achieve this is testimony to the fabulous organisational skills of the rest of the Duke team. On the day, I knew I was in good hands and didn't have to worry about a thing. I have had so many great compliments about how fantastic the food was so would you please pass on my regards to the chef. The venison was delightful and simply melted in your mouth. From what I understand the canapés were a real hit with the guests too. Also thank you for being so accommodating with the Sri Lankan food for the Hindu ceremony. I have to say a big thank you for all the hard work you have all put over the last 9 months. You were so fantastic with coming up with solutions to any problem I had and so efficient at getting things organised. You were always ready to talk and never too busy. And of course all of this hard work was always done with a smile. When we chose to have the wedding at the Duke 11 months ago, it was because we loved the fabulous meals we had there and loved the decor and feel of the place. But let me tell you, the Duke now holds a very special place in our hearts and it is because of the fabulous team of people who we have gotten to know so well and who made our wedding day so special. Mark and I will be up there to visit from time to time and we have already planned to spend our wedding anniversary at the Duke too. Thank-you so much. Shivani & Mark
- Shivani & Mark 19th March 2016,
Read More Reviews