Welcome to The Duke of Marlborough Hotel - refreshing rascals and reprobates since 1827. The Duke situated on the waterfront in Russell is a hotel steeped in history and intrigue. Located in the beautiful Bay of Islands the Duke of Marlborough Hotel with its award winning restaurant and 4 star accommodation is a great base to explore Russell and the Bay of Islands and all it has to offer. Take a tour by clicking here
The Duke offers a unique wedding destination where you can experience the historic charm of New Zealand's first licensed hotel.
Find Out More
They say a picture paints a thousand words and this is certainly true for The Duke, Russell and the Bay of Islands. Click below to browse our Gallery.
View Gallery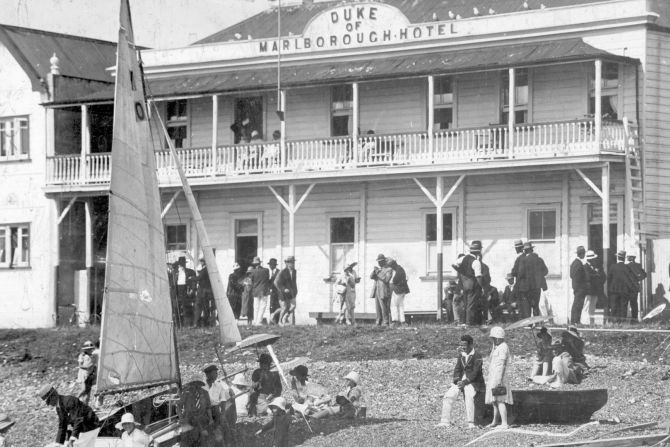 The Duke of Marlborough Hotel has a history dating back to 1827 starting its life as an unlicensed 'grog shop' owned by an ex-convict turned good.
Read More
What our customers say
We were so impressed by the Duke from their fast communication to the final details. Both Bridget and Ida helped us plan most of the wedding from overseas (London) and were efficient, conscientious and most of all made the planning enjoyable! I would highly recommend their team to anyone. Ida, the wedding planner has loads of experience and was able to provide advice on vendors, timing, the ceremony and all the minute details. She was always well organised and nothing was too much trouble. This allowed us to have a really personalised experience which is very rare in reception venues! We called her day and night (including Sundays!) and she was always friendly and helpful. Furthermore on the day Jana ran the reception like clockwork and it was nice to know we could relax in good hands. She genuinely listened to our requests and treated the wedding like it was her own. As a designer I can be a stickler for details but the team went out of their way to accommodate the items &details I wanted to include-including the chefs! The Duke of Marlborough is the perfect location for an Auckland destination wedding. Our friends were happy to drive up and have all raved about how beautiful Russell is and stunning the Duke was. The rooms are beautiful and the ornate ballroom is divine when filled with flowers!! It took my breath away to see it all done up on our wedding day. We look forward to a continued friendship with the team (especially Ida the amazing planner) and will be returning very soon to your little piece of paradise! A HUGE THANK YOU to your team!
- Lauren and Shon February 2016,
Read More Reviews