Welcome to The Duke of Marlborough Hotel - refreshing rascals and reprobates since 1827. The Duke situated on the waterfront in Russell is a hotel steeped in history and intrigue. Located in the beautiful Bay of Islands the Duke of Marlborough Hotel with its award winning restaurant and 4 star accommodation is a great base to explore Russell and the Bay of Islands and all it has to offer. Take a tour by clicking here
The Duke offers a unique wedding destination where you can experience the historic charm of New Zealand's first licensed hotel.
Find Out More
They say a picture paints a thousand words and this is certainly true for The Duke, Russell and the Bay of Islands. Click below to browse our Gallery.
View Gallery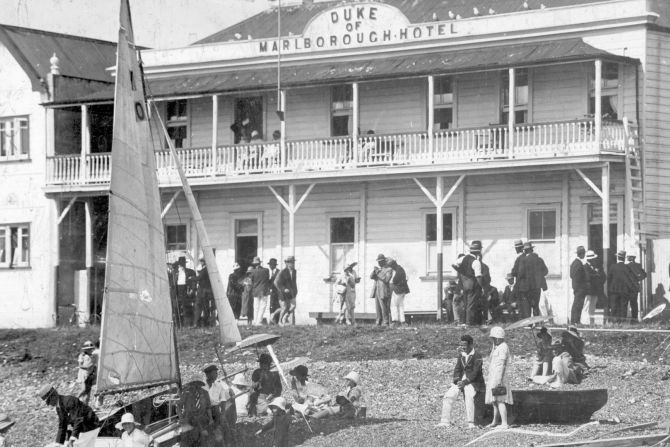 The Duke of Marlborough Hotel has a history dating back to 1827 starting its life as an unlicensed 'grog shop' owned by an ex-convict turned good.
Read More
What our customers say
The Duke of Marlborough Hotel won our hearts from day one with their exceptional food and wine. With each visit we were wowed by the extensive menu, but most impressive were the team who work at The Duke. They are warm, hospitable and fun, and experts at what they do. Having expert advice from Ida with the wedding plans was invaluable; she is a wealth of local knowledge and creative ideas, making it a fun and stress free process. The magical setting of Russell gave us endless options for our service and photos, and it was fantastic to have the Duke's beautiful veranda as a very attractive 'plan' for the ceremony in case of rain (which is rare in Russell).Our day went seamlessly and we can't recommend the Duke enough. We are thrilled to be part of the Duke family for life, and look forward to many return trips to visit our new friends in this jewel of the Bay of Islands.
- Rebecca & Dave, 9 April 2016
Read More Reviews