Welcome to The Duke of Marlborough Restaurant
A note on The Duke while at RED
From the 3rd December 2021, in order for The Duke of Marlborough Hotel & Restaurant to comply under the new COVID-19 Protection Framework, we will require My Vaccine Passes to be presented in order to enjoy The Duke. Unfortunately, you will be turned away if you are unable to present your My Vaccine Pass. You will also be required to bring some further photo identification as well.
As we will be operating under the RED level, customers are still required to wear a mask while entering The Duke of Marlborough and moving around the building including entering and moving around the restaurant. Please click
here
for further information.
Please do not yell at the Duke team, they have no ability to "opt out". This has been happening far to often to our staff
If you would like to yell at someone, please call Anton direct on 021 98 31 31
If you would like to express your displeasure to the Local MP – please email:
We really hope you understand the position that we find ourselves in, and thank you again for your support
Located right on the waterfront in Russell. Serving up delectable delights for lunch and dinner the Duke of Marlborough Restaurant is at the heart of this historical hotel. The menu showcases locally sourced seasonal produce, presenting a new take on classic favourites. Perfect for those seeking restaurants in Russell NZ
Being surrounded by water the menu is influenced by the sea and all it has to offer - from our local Waikare Inlet Oysters or perhaps our oven roasted market fish to the timeless fish and chips served in a crisp beer batter with hand cut chips - simply divine! Carnivores will not be disappointed, dishes include our classic slow roasted lamb shoulder or Grass Fed "Savannah" Eye Fillet - there is something for everyone.
Every menu contains vegetarian options and we can cater to most dietary requirements. We have an extensive beverage list with over 100 wines and 30 beers all of which are specially chosen to compliment our menu.
Please come in and have a look around. You can choose the area you wish to view via the green box, situated in the top left hand corner of the picture. To look around using a computer - use the mouse by clicking and holding, then moving your mouse. On a smart device - tap to interact and use your finger to move around. We hope you enjoy your tour!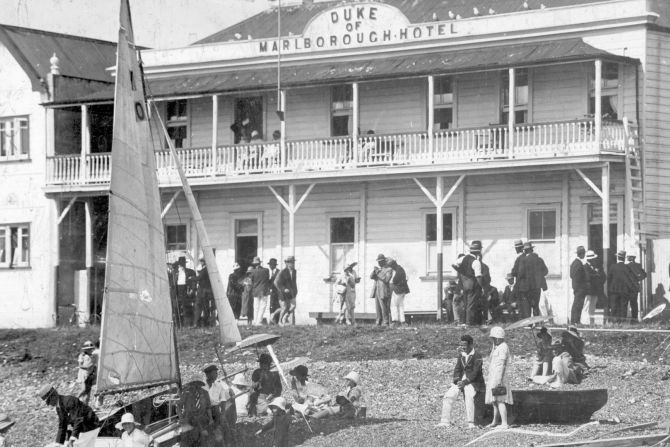 The Duke of Marlborough Hotel has a history dating back to 1827 starting its life as an unlicensed 'grog shop' owned by an ex-convict turned good.
Read More
What our customers say
The Duke of Marlborough Hotel won our hearts from day one with their exceptional food and wine. With each visit we were wowed by the extensive menu, but most impressive were the team who work at The Duke. They are warm, hospitable and fun, and experts at what they do. Having expert advice from Ida with the wedding plans was invaluable; she is a wealth of local knowledge and creative ideas, making it a fun and stress free process. The magical setting of Russell gave us endless options for our service and photos, and it was fantastic to have the Duke's beautiful veranda as a very attractive 'plan' for the ceremony in case of rain (which is rare in Russell).Our day went seamlessly and we can't recommend the Duke enough. We are thrilled to be part of the Duke family for life, and look forward to many return trips to visit our new friends in this jewel of the Bay of Islands.
- Rebecca & Dave, 9 April 2016
Read More Reviews