The Bay of Islands is a very popular holiday destination during our summer months, with visitors from both New Zealand and overseas heading north to enjoy the warm weather and beautiful blue waters. There are many great activities and adventures to be experienced, but sometimes all you need is a beach towel, some sunscreen and a good book. Here's a few of our favourite beaches on both sides of the Bay, all within an hour of The Duke.
On the east: Russell Beaches

Kororareka Bay
The Duke of Marlborough hotel overlooks Kororareka Bay, a sheltered beach of roughly 750m with easy swimming and close proximity to Russell's shops and cafes. A grassy strip separates the beach from The Strand and in December you may be lucky enough to see the Pohutakawa trees out in bloom. The sand itself is slightly stony and sloping down to the calm water. A steady stream of boats drift gently in and out of Russell's wharf, which sits in the middle of the bay.
Long Beach (Oneroa Bay)
Whilst Kororareka is right on our doorstep, we love Long Beach – a 20 minute walk over the hill. A lovely long sandy bay great for families with safe swimming and kayaking. At the north end around the corner there's also Donkey Bay which is a naturist beach.

Tapeka Beach
A little further away is Tapeka Point – about a half hour walk over Flagstaff Hill from Russell. The tide at Tapeka Beach doesn't go far and the bay is protected from waves and swell, so there is great swimming at all times.
Elliot Bay
On the east coast and roughly 30 minutes' drive from Russell, Elliot Bay has a great little surf beach popular with campers and those looking to hide away. It's a little more rugged than our Russell beaches and has beautiful white sand. There's not much in the way of local amenities so we'd recommend taking a picnic if you are planning on staying a while.
On the west: Paihia Beaches
We might be biased, but Russell's beaches are superior in our eyes! Nevertheless, Paihia is worth a visit and only takes a 15 minute passenger ferry ride across the Bay. There are two beaches. Due to its location, the Paihia Town beach (lesser known as Taiputuputu Pahi) is busiest but the sand is not that wide and many people can be found sunbathing on the grass strip. A 15 minute walk north towards Waitangi takes you to the slightly larger Te Tii Bay. In summer there are kayaks and jet skis for hire off the shore.
Out in the Bay: Otehei Bay, Urupukapuka Island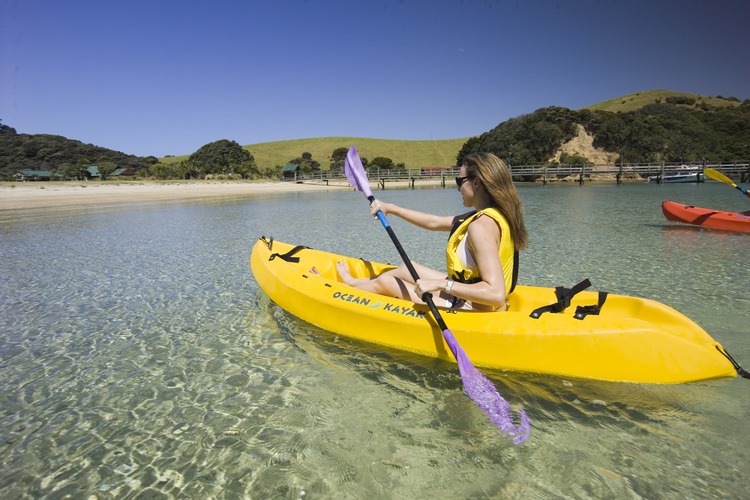 For an alternative beach adventure, we recommend jumping on the Explore Ferry ($25 return) to Urupukapuka, the largest island in the Bay of Islands. Once there you will find several beaches, short walks with beautiful views, and a licenced café serving food and drink. Fullers GreatSights also pay a visit to this bay on their Day Cruises.
Photos courtesy of NorthlandNZ.com.